Welcome to our website!

YUZAWA ENGEI is a small family nursery
which cultivates various plants making use of climate of LAT.43°N .
In this web-site, we are offering the plants including Japanese rare ones to overseas.
We are not wholesale nursery and there is no wholesale list.
If you are looking for any Japanese plants which are not on our lists,
please let us know.
We will try to find them as much as we can.
If you have any questions, please feel free to ask us.

4 seasons in Yuzawa Engei

About Yuzawa Engei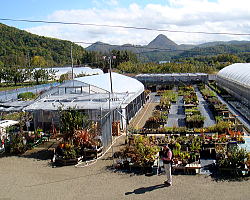 This is the photo of our nursery.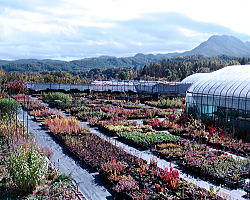 This is the photo of our nursery.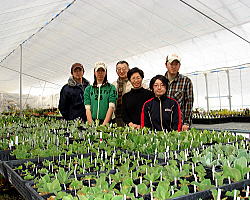 Working people
A person who are squatting in front is Sachiyo who are in charge of overseas order.
She will correspond with you by E-mail.
We are not good at English and other foreign languages. If you find any mistakes on our web-site, please let us know.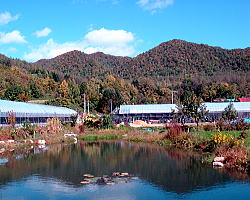 We have an oasis, a reservoir in the back of our nursery.
We raise water lily, carps and other fishes in there.
---
Information (Last up date)
22/6/2019

We start to selling seeds

5/6/2019

We have uploaded a new plants list for summer resting bulbs which will be shipped in the end of August to September.
This list is for bulk buying.
Some of them are more profitable than winter list.
You can use the shopping cart.
If you use the shopping cart, we will request postage and other charges separratelly.
Also, mail order will be fine, of course.
Contact us
Please check the list and find the species you are looking for.
Summer Sale

6/3/2019

We had finished the plants sale for overseas this season.
Thank you for many orders.
We will upload the new plants list on our web-site in September.

Also, we will have 'Summer Bulbs Sale' from early summer.
In this sale, we will ship summer resting bulbs.
I hope you are interested in this.

New seeds list will be uploaded in the end of July.

I hope you are having nice spring season.

1/2/2019

Seed sale has ended this season.
Thank you for many orders.

We will upload new seed list in July 2019.
Early summer seeds, like Ranzania japonica and Erythronium japonicum, will be added to the list.

6/11/2018

We are shipping the order in order but now we need about 1 month for the shipping the new seed order in this season.
Thank you for your understanding.

13/9/2018

We've updated new plants list for winter shipping!

27/6/2018

We start to selling seeds

13/6/2018

We have uploaded a new plants list for summer resting bulbs which will be shipped in the end of August to September.
This list is for bulk buying.
Some of them are more profitable than winter list.
You can use the shopping cart.
If you use the shopping cart, we will request postage and other charges separratelly.
Also, mail order will be fine, of course.
Contact us
Please check the list and find the species you are looking for.
Summer Sale

10/3/2018

We had finished the plants sale for overseas this season.
Thank you for many orders.
We will upload the new plants list on our web-site in September.

Also, we will have 'Summer Bulbs Sale' from early summer.
In this sale, we will ship summer resting bulbs.
I hope you are interested in this.

New seeds list will be uploaded in the end of July.

I hope you are having nice spring season.

27/2/2018

The list for winter shiping plants will be expired and deleted on 8th March.
We will upload the new seed list in June.
Also, we will upload the list for summer resting bulbs in July.
The new list for winter shipping plants will be uploaded in September.
Thank you.

1/2/2018

Seed sale has ended this season.
Thank you for many orders.

We will upload new seed list in July 2018.
Early summer seeds, like Ranzania japonica and Erythronium japonicum, will be added to the list.

24/9/2017

We've updated new plants list for winter shipping!

16/7/2017

We've updated seeds list.

4/7/2017

We start to selling seeds